SEPTIC SYSTEMS INSPECTIONS & ASSESSMENTS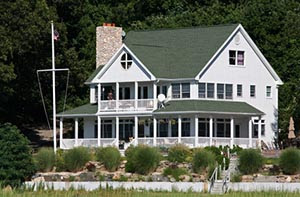 Proper septic system inspection is the best way to prevent property owners from having to face unexpected and costly repairs. An inspector can determine whether you are disposing of sewage and gray wastewater in a safe and legal manner.
MASSACHUSETTS TITLE 5 INSPECTION
Since 1995, the State of Massachusetts has required residential and commercial property owners to pass a Title 5 Inspection of their on-site sewage treatment systems before they can sell the property. Specific guidelines were set to prevent the contamination of local drinking water supplies and groundwater as a result of outdated or ineffective septic systems or cesspools. Septic Preservation offers Massachusetts Title 5 Inspections, using state-of-the-art equipment and techniques, giving you a thorough inspection at a price you can afford.
RHODE ISLAND TOWN INSPECTIONS
In addition to the Massachusetts Title 5 Inspection, Septic Preservation is also licensed to perform Rhode Island Town Inspections. These inspections are required by many towns throughout Rhode Island, including Charlestown, Jamestown, North Kingstown and South Kingstown. Because it is a part of the local town ordinance, residential and commercial property owners living in these areas are required to submit to these regular inspections of their septic systems. SPS uses state-of-the-art tools to provide these services to our customers at an affordable rate.
CONFIDENTIAL VOLUNTARY ASSESSMENTS
Many property owners are unaware that they have the ability to hire a licensed inspector, such as SPS, to perform Confidential Voluntary Assessments of their septic systems. These inspections are completed just as they would be according to the Title 5 Inspections required by the State of Massachusetts, but the findings are NOT reported to any other person, municipality or office outside of the homeowner.
Once the inspection is complete, the homeowner will receive a thorough report from Septic Preservation along with an assessment of the findings and some recommendations on how to properly maintain or repair their septic system. The recommendations provided by SPS are designed to increase longevity and prevent future issues, such as property damage, high cost repairs or system replacement.
Septic Preservation Services : A LEADER IN SEPTIC SYSTEM INSPECTION
Our licensed and certified inspectors and technicians at Septic Preservation Services can help you with all of your Title 5 Inspection and Rhode Island Town Inspections needs. Give us a call at 877-378-4279 for pricing, information or to set up an appointment for an inspection of your residential or commercial property.
Visit www.septicpreservation.com for everything you need to know about your septic system.
https://septicpreservation.com/wp-content/uploads/2015/09/house-5.jpg
197
300
Elizabeth Alves
https://septicpreservation.com/wp-content/uploads/2018/04/sps_logo_number.png
Elizabeth Alves
2017-04-26 13:05:40
2017-04-26 16:06:36
SEPTIC SYSTEMS INSPECTIONS & ASSESSMENTS